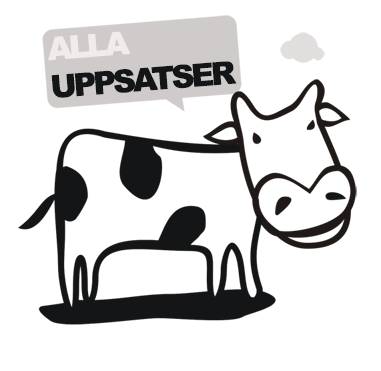 UNGDOMAR OCH DERAS UPPFATTNINGAR AV MODEVARUMÄRKEN
En studie av varumärkena Gucci, H&M och Canada Goose bland gymnasieelever i Stockholm.
ABSTRACTTitle: Teenagers and their perception of fashion brands (Ungdomar och deras uppfattningar om modevarumärken)Number of pages: 42Author: Louise KindblomTutor: Göran SvenssonCourse: Media and communication studies CPeriod: Autumn term 2007University: Division of Media and Communication, Department of Information Science, Uppsala universityPurpose/Aim: To achieve a deeper level of knowledge and a better understanding of high school teenager`s perception of the three fashion brands Gucci. H&M and Canada Goose and too distinguish potential gender related differences in their perceptions.Material/Method: A questionnaire about fashion brands delivered to three schools in the Stockholm area.Main results: Teenagers perceptions of the three fashion brands Gucci, H&M and Canada Goose are more different than similar. This differences in teenagers perceptions are discernible in a comparison between the most usual and unusual associations that are related to each of the brands. Gucci is associated with success, wealth, excitement and uniqueness. H&M is for example seen as earth-bound and has in a comparison with the other brands reached the highest level of positive associations. Canada Goose is seen as dishonest, and has the highest level of negative associations. Gucci and H&M are the strongest brands. They are strong regarding different aspects. Canada Goose is the least strong fashion mark. There are differences in perceptions of gender but they are quite seldom very big even if there are exceptions from this rule. The differences are more subtle.Keywords: fashion brands, teenagers, perceptions, strong brands, associations, image, Kellers pyramid
Författare
Louise Kindblom
Lärosäte och institution
Uppsala universitet/Medier och kommunikation
Nivå:
"Kandidatuppsats". Självständigt arbete (examensarbete ) om minst 15 högskolepoäng utfört för att erhålla kandidatexamen.