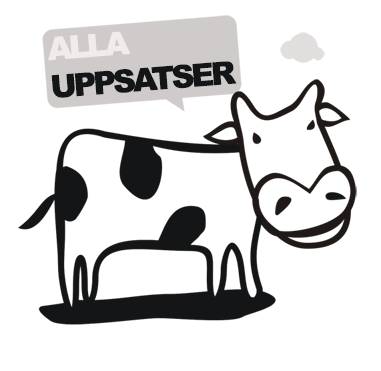 "Världens bästa reklamfilm"
En studie i hur reklamfilmerna från ICA är konstruerade för att locka kunderna till konsumtion
This paper sets out to investigate how companies can create advertisement that focus not only on selling but also on entertainment. The research is based on seven TV-commercials produced by the Swedish food chain ICA. The commercials were analyzed according to the methods of discourse analysis, semiotic analysis and rhetorical analysis. Furthermore, the research compares the analysis made with the thoughts and ideas of Tobias Karlsson, Head of marketing and communications development at ICA to find out how the comprehension of the commercials correlate with the original intentions made by the company.The study shows that ICA creates a commercial that contains the perfect mix of rhetorical approaches, communication strategies and entertainment mixed with gravity. The study also shows that ICA fails with its primary goal which is to sell selected products; however, by producing the entertaining commercials, they manage to strengthen their brand. This is assumed to lead to increased loyalty and confidence among consumers which makes the consumers visit ICA more often.
Författare
Fredrik Carlén
Lärosäte och institution
Linnéuniversitetet/Institutionen för samhällsvetenskaper, SV
Nivå:
"Magisteruppsats". Självständigt arbete (examensarbete ) om minst 15 högskolepoäng utfört för att erhålla magisterexamen.