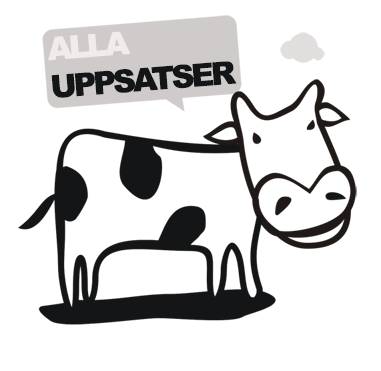 Underlag till marknadsplan för Umeå Studentkår
inför avskaffandet av kårobligatoriet
Today it is mandatory for every college or university student to pay a union fee to their student?s union. The fee is mandatory and is a payment for writing examinations, receiving grades. The fees purpose is also intended to secure the education quality and student influence. In the presence of the abolishment of the union fee the Swedish student?s unions stand before an uprising competition between themselves and most likely a decrease in membership. This situation occurs because the unions go from a forcing membership to a voluntary one. The members will in the future decide for them selves if they want to join a union and take part of what they are offering or not.For this assignment we have been given by Umeå Student union to investigate the member?s perception and attitude towards the union, this due to the situation the abolishment of the union fee will create. The Umeå Student union is worried how they best would make use of their marketing resources in order to keep a sufficient members number.The central question for this study is: How will Umeå Student union in the situation of an abolishment of the union fee market them selves in order to secure the unions business at Umeå University?The purpose of this study is to create a foundation to a marketing plan which is sustainable for Umeå Student union when the union fee is abolished. We will in order to create this foundation study which factors that are crucial for the students at Umeå University when deciding if to join the union or not. We will also evaluate the promotion marketing Umeå Student union uses today and give recommendations how they could use these more efficient.In the work of collecting empirical data we have interviews Umeå Student union elected representatives and members in the underlying sections. The interviews are teamed under the headings; communication, promotion, strength/weaknesses/competition and thoughts around the union fee. The union board have also given us seven words of value that they want the students to connect with Umeå Studet union. These words are the foundation we base our suggestions for the marketing plan. The interviews gave us an insight in the factors the student thought of most important in joining Umeå Student union. Some examples of these factors are; to clearly show what the student union has accomplished during their mandate period, increase the integration between the members and the union as well as making the promotion more students friendly. Therefore the core of the marketing plan is support-activities which are intended to increase the interest of new and old members as well as putting Umeå Student union?s core business in focus.
Författare
Johanna Tamker
Anna Abrahamsson
Lärosäte och institution
Umeå universitet/Handelshögskolan vid Umeå universitet
Nivå:
"Kandidatuppsats". Självständigt arbete (examensarbete ) om minst 15 högskolepoäng utfört för att erhålla kandidatexamen.