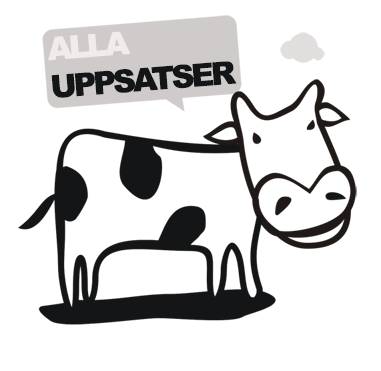 Nationell identitet i konsten
Peter Johansson dekonstruerar mytbilden om svenskhet
The purpose of this examination is to identify how notions of Swedishness is created artistically, and from where these notions come. My method is to make a study on exhibition catalogues on the theme Swedishness/Nordism, with focus on the contemporary Swedish artist Peter Johansson. With a retrospect of his childhood in Dalecarlia, he investigates a Swedish iconography with it?s roots in national romanticism, which for more than one hundred years has been preserved and exploited of the tourist industry to market Sweden. It?s this monotonous iconography that Johansson deconstructs to make it appear like something else ? namely an iconography based on ethnic purity, which pushes away the foreign and protects the own. Some of the exhibition catalogues confirm the national romantic iconography which has been brought to life through commercial forces right up to now, but from the nineties there is a tendency to question the validity of this homogeneous image of Sweden. Peter Johansson?s way of using deconstruction as a method to exposure the myth of Swedishness involves a continuous reformulation of the Swedish identity, but the postmodern art also creates, through exposure in exhibitions all around the world, new constructions of Swedishness.
Författare
Frida Edoff Torstensson
Lärosäte och institution
Södertörns högskola/Institutionen för kultur och kommunikation
Nivå:
"Kandidatuppsats". Självständigt arbete (examensarbete ) om minst 15 högskolepoäng utfört för att erhålla kandidatexamen.