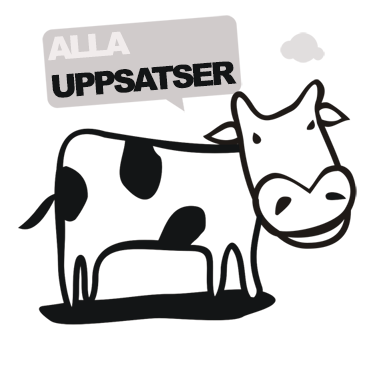 En fallstudie om en fotbollsklubbs varumärke
?Kall hjärna, varmt hjärta och rena händer?
Authors: Tobias Nilsson & Vedad LjeljakSwedish title: A case of a football club?s brand. En fallstudie om en fotbollsklubbs varumärke, ?Kall hjärna, varmt hjärta och rena händer?AbstractPurposeThe purpose of our study is to understand brand building of a Swedish professional football club. MethodThe method that has being used in the essay is a qualitative study where we have used semi constructed interviews to create a deeper understanding for brand building in a football club. Our interviews has been done with the president of the club, president of the company, president in the association, players profile, professional coach, and an alternate of the board. Analysis and conclusionThe conclusion that has been produced in this research is that ÖSK Football through dedication and a long-term strategy has built an attractive football product that has created background for brand communication with the consumers. The club has a strong brand identity, that through its professionalism and ambition lead to progress regarding its position in the Swedish professional football league. This work has been carried out through a strong intern brand loyalty within the club and that the capital of faith was rebuilt with its consumers. Suggestions for further researchTo compare the internal perspective to the external perspective regarding brand building within a football club. The internal perspective includes the organization within the club and the external perspective regards the fans and sponsors point of view. Key wordsBrand, brand building, brand loyalty, brand communication, and brand value. 
Författare
Tobias Nilsson
Vedad Ljeljak
Lärosäte och institution
Linnéuniversitetet/Institutionen för pedagogik, psykologi och idrottsvetenskap, PPI
Nivå:
"Kandidatuppsats". Självständigt arbete (examensarbete ) om minst 15 högskolepoäng utfört för att erhålla kandidatexamen.