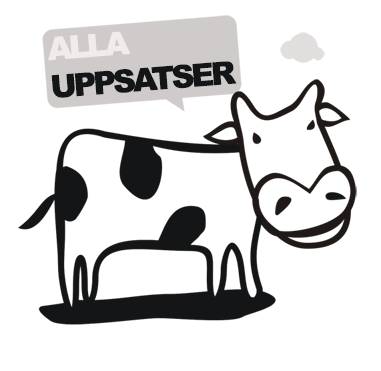 ?SOLO har fått en lillasyster!?
- En undersökning om hur formen och innehållet skiljer sig mellan tidningarna Solo och Solo G
Abstract:Title: ?Solo has got a little sister! ? A study how the form and content differ between the magazines Solo and Solo G(Solo har fått en lillasyster! ? En studie om hur formen och innehållet skiljer sig emellan tidningarna Solo och Solo G)Number of pages: 37 pagesAuthor: Johanna LaurellTutor: Göran SvenssonCourse: Media and communication studies CPeriod: Autumn term 2005University: Division of Media and Communication, Departement of Information Science, Uppsala University.Pupose/Aim: This essay aims to investigate how the form and content in the magazine Solo G, which direct to a younger target group, differ from the magazine Solo which directs to an older target group. In this analyse of form and content have I also chose to study how the magazine present femininity and how this affect the female identity.Material/Method: The material consists of 4 magazines from Solo and Solo G during 2005. A qualitative text analysis has then been used as a method of analysing the material.Main results: Solo G focuses a lot more on celebrities than Solo. Solo G uses the celebrities as role models to the youth to look up to. There is also a difference how the magazines talk to their readers. Solo directs to their readers and they try to analyse their behaviour. Solo G focuses on celebrities and tells to their readers to look as them and to behave like they behave. Both magazines are mainly about female beauty, sex and how women should loose weight.Keywords: Women magazines, identity, identification, and femininity
Författare
Johanna Laurell
Lärosäte och institution
Uppsala universitet/Medier och kommunikation
Nivå:
"Kandidatuppsats". Självständigt arbete (examensarbete ) om minst 15 högskolepoäng utfört för att erhålla kandidatexamen.