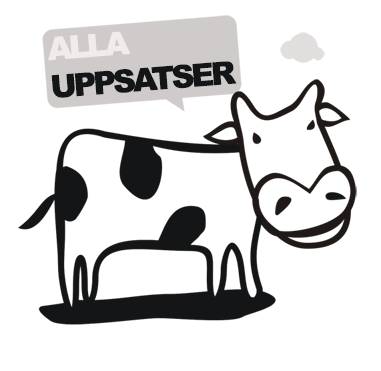 Investerare eller mecenat?
En studie om riskkapitalanva?ndning inom den svenska filmbranschen
Title: Investor or Maecenas? ? A study on the usage of venture capital within the Swedish film industry.Author: Tobias MagnussonSupervisors: Ahmad Ahmadi, Clas GunnarssonPurpose: The purpose with this thesis is to complement the research on procurement of capital within the Swedish film industry.Methodology: The primarily research method that have been used to gather material is qualitative interviews, that has been performed with four individuals that are active in the Swedish film industry.Theory: In order to create an adequate theoretical base, theories regarding investments and cultural entrepreneurship are presented.Empirics: In this chapter the results of the interviews are presented, sorted in several subcategories. The material is thereafter analyzed and discussed in the following chapter, with the theoretical base in mind.Conclusion: The usage of venture capital within the Swedish film industry is relatively low today. Non-monetary values are the primary reason to invest in the Swedish film industry today. A significant risk diversification, together with knowledge dispersion needs to be made in order to make the Swedish film industry more attractive to investors. If these changes will be made, there is a possibility that the industry?s self image will change.Keywords: Film, financing, venture capital, cultural entrepreneurship, Swedish film industry
Författare
Tobias Magnusson
Lärosäte och institution
Högskolan Väst/Institutionen för ekonomi och it
Nivå:
"Kandidatuppsats". Självständigt arbete (examensarbete ) om minst 15 högskolepoäng utfört för att erhålla kandidatexamen.