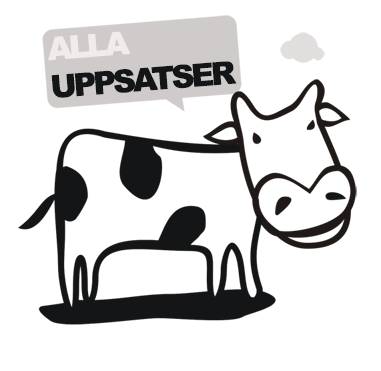 Sökresultat:
3 Uppsatser om Thunberg - Sida 1 av 1
Uppsatsen är en biografisk och receptionshistorisk studie av en svensk nutida konstnär. Tidningarnas recensioner och artiklar, personliga samtal med Johan Thunberg och analys av Thunbergs målningar ger underlag till uppsatsen. Materialet har hämtats från bibliotekets mikrofilmsarkiv, tidningarnas internetarkiv och konstnärens hemsida på Internet med länkar till Konstnärslexikonet Amanda och Svenska konstnärer. Vid informationsinsamlandet av underlaget till uppsatsen har långsamt en ?bild? av Johan Thunbergs konstnärliga verksamhet vuxit fram som idag år 2011 kan ses som en mindre affärsrörelse. En intressant del i affärsrörelsen, förutom den konstnärliga kreativiteten att framställa originalmålningar, är marknadsföringen av enmansföretaget.
The purpose of this thesis is to examine how municipal archivists/records managers seek and use information in their daily worklife. Two mayor questions were addressed:1. What information resources and information channels do the respondents use in their daily worklife and which functions do these fulfil?2. How do the respondents experience their information seeking in relation to the work role and the tasks in the municipal organisation?A qualitative method with interviews was used.
Background: Non-profit organizations have a large and significant role in Swedish society and Thunberg (2006) choose to express it like Sweden stops without nonprofit effort. But in several non-profit organizations, and then perhaps especially in sports, there exist problems with the economy. Tate (in Vermeer, Raghunandan & Dana, 2009) explains that the audit of non-profit organizations differs from the audit of for-profit companies as they often have differences in culture, organizational structure, financial requirements, accounting standards, financial reporting, financial statements and the auditor's risk environment. While the audit is different, it should also be noted that in the vast majority of non-profit organizations, there are no statutory requirements for audit, but despite this, 99% of all non-profit organizations have some form of audit regulated by their statute (Lunde?n & Lindblad, 2011).