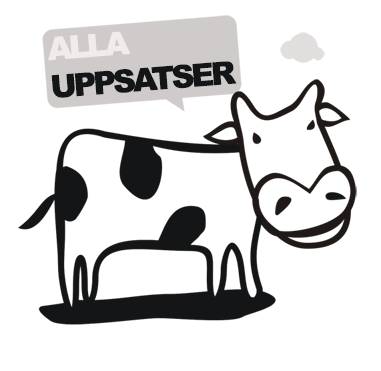 Sökresultat:
3 Uppsatser om Philosophie - Sida 1 av 1
?If we consume the product as a product, we consume its meaning through advertising? ? Jean BaudrillardSyftet med denna studie är att identifiera och analysera bakomliggande myter om lycka i kommersiella reklamfilmer, utifrån ett konstruktionistiskt perspektiv. Analysmodellen, som bygger på semiotik och neoformalism, genererade kunskap om de olika berättarstrukturerna kring lycka i de undersökta reklamfilmerna. Resultaten indikerade framförallt att berättarstrukturerna om lycka grundar sig i myter som är starkt kopplade till den kapitalistiska ideologin. Studien avser därmed att blottlägga och analysera myter om lycka i reklamfilmer ur ett kritiskt konstruktionistiskt perspektiv..
The following text constitutes an attempt to present the French philosopher Gilbert Simondon's genetic ontology through an account of his reconfiguration of the problem of individuation in his doctoral thesis from 1958, L'individuation à la lumière des notions de forme, information, potentiel, métastabilité. The intention is to show how Simondon through this reconfiguration of a classical philosophical problem ? in which concepts and schemas from contemporary physics and technology is utilised in a critique of the bi-polar hylomorphic schema as its traditional, substantialistic solution ? becomes able to articulate an anti-substantialistic and anti-reductionistic ontogenesis as first philosophy. A systematic philosophical conception that according to Simondon precedes every critical investigation of the subject as well as every scientific ontology ? not by establishing a pre-critical position, but by exceeding Kant's critical position: that is, through a displacement toward a conception of the transcendental conditions for the genesis of being and thought as real conditions, rather than conditions of mere possibility.
In this essay I have read the novels Wide Sargasso Sea (Jean Rhys 1966), Desirada (Maryse Condé 1997) and Invisible Cities (Italo Calvino 1972) through Édouard Glissant?s notion of the primary scene in Philosophie de la relation. Poésie en étendue. I have examined how the primary scene can be seen as a political/an aesthetical strategy in the three novels. This was done in order to question the blunted tool of the notion of the identity, which is often considered in studies regarding ?postcolonial novels?.